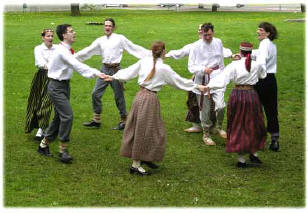 The folk dance group "Dandari" of the University of Latvia unites young people who are interested in folklore, especially folk dances.
The group was established in 1980 by Ernests Spîčs, a well-known ethnochoreographer, who was the first to prove that ethnic dance also today is exciting and thrilling to both the audience and the dancer. The founder of the group involved "Danadari" participants in the study and collection of folklore materials which became a part of the group's repertoire.
The repertoire of "Dandari" consists of dances and games from different regions of Latvia as well as choreographic arrangements starting with common social life and seasonal tradition performances until a modern folklore theatre as well as specially designed programmes to present the Latvian culture.
The folk dance group "Dandari" acquires also singing, oral folklore and traditions.
Many details of national costumes are made by participants themselves. Musicians of "Dandari" achieve an original sound using old instruments and imitating the playing manner of folk musicians.
"Dandari" has participated in such festivals in Latvia as "Baltica", "Gaudeamus", "Sudmaliňas" "PEPT".
Group's performances on tour have taken place in Georgia, Poland, Russia (Siberia), Germany, Norway, Sweden, the USA, Finland, Spain and France; ever so many times in neighbouring countries Lithuania and Estonia. "Dandari" has represented the culture of Latvia in the festival of Folk Life organized by Smithsonian Institute (Washington, the USA), EXPO 2000 (Hanover, Germany) as well as in the events organized by embassies of Latvia.
The group's rehearsals take place every Monday and Thursday from 7.00 p.m. in the hall of the University of Latvia, Faculty of Physics and Mathematics Zeďďu Street 8 (Agenskalns).
Welcome to join!
Leader of the group
Ilmârs PUMPURS
Phone: 9138299, 7617643

e-mail: dandari@inbox.lv